Air Therm and All of Savannah Love Their Bananas! Four Reasons Why
Date - 04/11/2023
---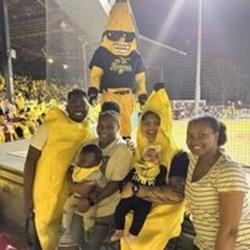 If you think baseball is boring, you haven't been to see The Savannah Bananas!
Nowhere in the world is there a team that's more fun to watch than the Savannah Bananas. Since Air Therm is a company that believes everyone should have a little fun, we are proud and loyal supporters of this unique and amazing team.
If you live here, you've probably heard about them, but if not, let us just say that the Savannah Bananas are a baseball team based here, but the team has gained popularity all over the world.
Air Therm and all of Savannah love their Bananas. Here are four reasons why.
Reason Number One: Entertainment First
The Bananas have a philosophy of "entertainment first, baseball second," which prioritizes making the game fun and engaging for the fans. They have taken the traditional game and turned it on its head, injecting fun and excitement into every aspect of their games.
The results?
Great Attendance
People love coming to a game. Founded in 2015, their first official season was in 2016. In their very first season, the team set a Coastal Plain League attendance record with an average of 4000 fans per game.
After the pandemic, in 2019, the averaged 4500 fans per game, and they have sold out every home game since their second season.
The Savannah Bananas know that there's more to baseball than batting averages!
Extra Amusements
From the moment you walk through the gates at Grayson Stadium, you know you're in for a different kind of baseball experience. The team has a mascot named Split, who is always up to some sort of shenanigans, and a pep band that plays throughout the game, adding to the festive atmosphere.
During the innings, you might take part in dizzy bat races, water balloon tosses, human bowling, or sumo wrestling. You might even win a prize! (Who doesn't like to win prizes?)
You might be dazzled by a show or sing-along with a performer because the Savannah Bananas often bring in outside shows. Jugglers. Dancer. Musicians. Acrobats. Magicians. You never know what "extra" amusement you might find at the game.
One of the most popular interactives games is "Dancing with Split," where fans are invited to dance with the team's mascot, Split, on the field. (Of course, dancing with "Split" ranks right up there with eating a banana split!)
But wait! That's not all! The Bananas also have special events throughout the season, such as "Bark in the Park," where fans can bring their dogs to the game, and "Princess and Pirates Night," where fans are encouraged to dress up in their favorite princess or pirate costume.
Unique Concessions
Unique Concessions: The Bananas have a range of unique concessions that add to the overall experience. These include a "Pickles in a Pouch" stand, where fans can purchase pickles in a pouch, and a "S'mores Pit," where fans can roast marshmallows and make their own s'mores.
Bet you can't find that kind of full-scale entertainment with any other baseball team in the world. It all belongs to the Savanah Bananas!
Reason Number Two: Unconventional tactics
The Bananas have a commitment to making their games interactive and engaging for the fans. They use zany, unorthodox tactics on the field.
Sometimes, they'll use a banana as a bat.
They may perform a skit.
They gyrate to special dances during the game, and you might see the pitcher do a back flip between pitches.
They even wear kilts to play ball!
Reason Number Three: Community and Inclusivity
The Bananas have a strong sense of community and inclusivity. They have a "Fans First" policy, which means that they prioritize the needs and desires of their fans above all else. They also have a variety of programs to engage with the local community, such as hosting free baseball clinics for kids and partnering with local charities. At every home game, the Bananas partner with a nonprofit and donate a percentage of sales to the organization.
In 2019, they raised over $200,00 for local nonprofits.
Reason Number Four: Unique Baseball Experience
The Bananas have created a truly unique and entertaining baseball experience for their fans. They have garnered a devoted following, with fans traveling from all over the world to see them play.
"Banana Ball" is not just for the local area. The team's games have aired on ESPN and generated more than 3.1 million followers on TikTok. Who would have believed that the crazy antics of The Savannah Bananas have more of a following than the New York Yankees, Chicago Cubs, Boston Red Sox, and the Atlanta Braves combined!
The team has even spawned its own merchandise empire, with everything from hats and t-shirts to bobbleheads and socks available for purchase. Demand for merchandise is growing, and it is one of the main money-makers for the team. In 2019, the Savanah Bananas sold over 100,000 pieces of merch.
Uniqueness Pays Off
The Savanah Bananas know that being different is a good thing! They understand that people enjoy out-of-the-ordinary entertainment, and that baseball is more fun when it goes a little berserk!
In a world that can often feel repetitive and predictable, the Savannah Bananas offer something unique. They have taken a sport that many people view as slow and boring and turned it into a vibrant and exciting experience. They have created a sense of community around their team, bringing people together from all walks of life. Whether you're a die-hard baseball fan or just looking for a fun night out, the Savannah Bananas are sure to provide an unforgettable experience.
Air Therm and all of Savannah love their Bananas. Join us in supporting this team and their wild and wonderful kind of ball. Let it all out and "go bananas!"
---