Can You Save More Energy by Turning the AC OFF or Letting It Run All Day?
Date - 03/27/2023
---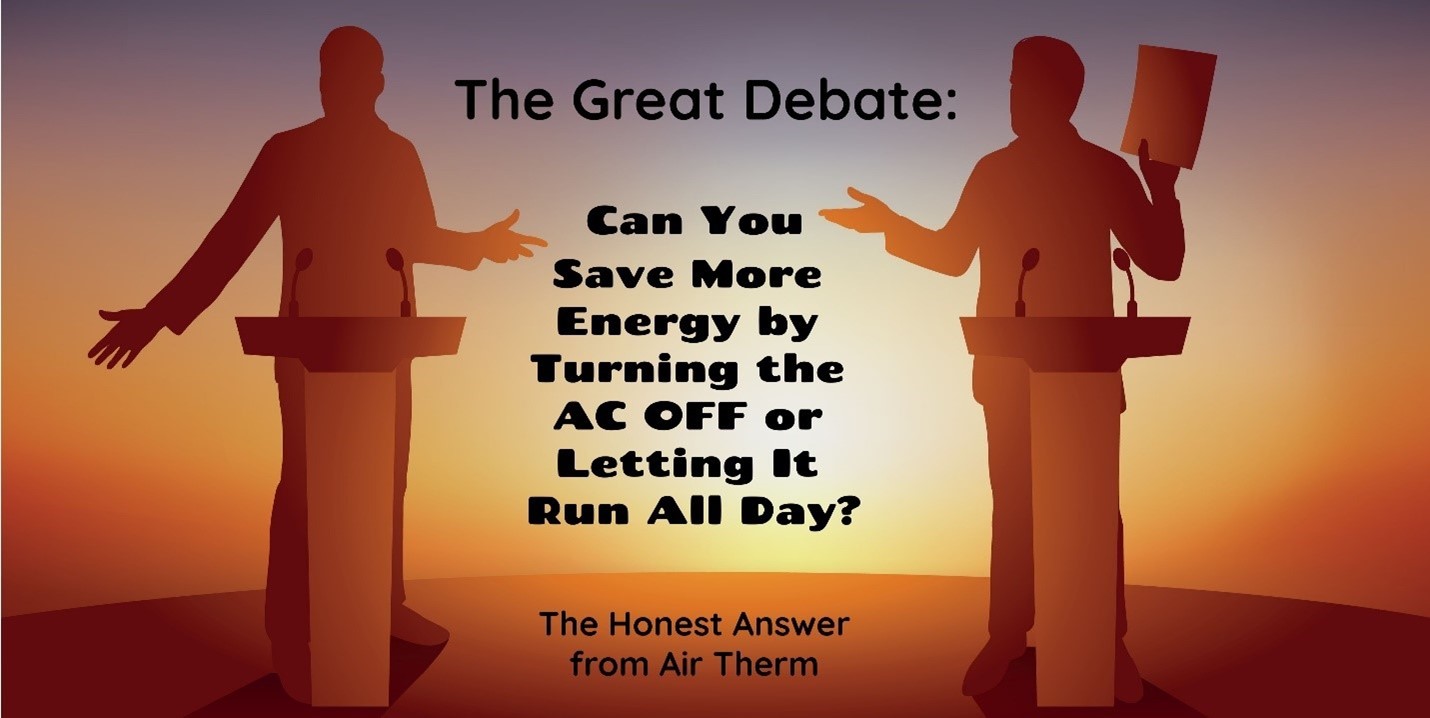 You asked. Air Therm answers!
This week one of our customers asked us a question and wanted a straight answer from us.
It's no wonder she asked. There's so much contradictory information out there, it's hard to tell which is true and which is a myth.
So Air Therm is here to give you straight, honest answer about the great debate in air conditioning world:
"Can you save more energy by turning the AC off or by letting it run all day when you're gone?"
Why the controversy?
The debate focuses on the amount of energy used. Does it take more energy to turn the air conditioner off while you're gone throughout the day and then turn it back on when you come home?
OR
Can you save more energy by letting the air conditioner run while you're gone all day?
Here's what the experts from Air Therm have to say on the great debate.
Sage advice from the wise Bill Efird
Do NOT turn off the air conditioner completely!
Instead, it's best to adjust the temperature rather than turning the unit off.
If you're going away for a vacation or a long period of time, turn the air conditioner up to 80 degrees.
If you're just going to be gone for a day, you can turn it up a few degrees. Some studies show that for every degree you turn your thermostat up, you save about 1% of your energy use. Don't turn it up too high, though, because then it takes more energy to bring the house back to a comfortable temperature. We recommend no more than 76 degrees if you want to adjust it.
Keeping the air conditioning at an altered temperature means it doesn't have to run as much as it would if you were home, but it is still taking the humidity out of the air.
Scott Efird adds his two cents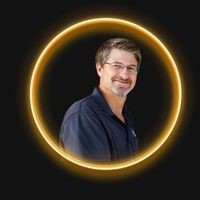 I agree with Dad! It's not good to turn your system completely off.
The real issue is the humidity in the house.
When the air conditioner is running, it is taking the humidity out of the air, so leave it on while you're gone during the day.
The lower the humidity in your home, the more comfortable it feels during the hot weather. (And we KNOW how hot it gets in Savannah in the summer!)
Joseph Edwards, Technician and Sales Staff agrees
The best advice from the experienced professionals at Air Therm is NOT to turn your air conditioning off.
No matter what the internet tells you, leave your system running all the time. It doesn't cost more to leave it running than it does to turn it off and make your air conditioner work extra hard to bring the temperature back down and take the moisture out of the air.
You can save a energy and money by adjusting the air conditioning temperature upward if you're going on vacation in the summer. The house doesn't have to be at 70 degrees, but it does have to have the humidity reduced while you're away.
(The same principle applies in the winter. If you're going away for a holiday, lower your heat so it doesn't have to work quite as hard as it would if you were home, but don't turn it off completely. Even in Savannah, we've been known to have cold enough weather to freeze pipes!)
The best option of all
We live in this amazing modern world where technology is easy and SMART.
The best option to save energy and money on your air conditioning and heating bills is to invest in a smart WiFi thermostat that can set a schedule to raise and lower the temps based on the time of day you leave for work and the hour you arrive home.
Smart thermostats can even be controlled by a phone app, so if you're stuck for hours in a traffic jam, you can delay the onset of air conditioning and save yourself some cash.
Just call Air Therm. We'll help you find the best way to save money on your air conditioning!
---